Stingray Document Aligner

Stingray is a cross-platform document aligner designed to assist professional translators in the production of translation memories from existing translated material.
Translation memories generated by Stingray can be used in most modern CAT (Computer Aided Translation) programs, including Swordfish.
Use Stingray to correct existing TMX files and for converting them to other formats.
Export Formats
Stingray exports aligned translation memories in these formats:
| | |
| --- | --- |
| CSV | Unicode with user-defined delimiters. |
| TMX | (Translation Memory eXchange), the vendor-neutral open XML standard for the exchange of Translation Memory (TM) data created by Computer Aided Translation (CAT) and localization tools, published by LISA (Localisation Industry Standards Association). |
| Trados TXT | Unicode memory exchange format used by versions 7.x/8.x of SDL Trados. |
| XLIFF 1.2 | Standard localization exchange format supported by most CAT tools, including Swordfish. |
Supported file formats
The file formats currently supported by Stingray are:
General Documentation Types
Software Development Types

Adobe InDesign Interchange (INX)
Adobe InDesign IDML CS4, CS5, CS6 & CC
HTML
Microsoft Office 2007/2008/2010/2011/2013/2016
Microsoft Visio XML Drawings 2007/2010/2013
MIF (Maker Interchange Format)
OpenOffice/LibreOffice/StarOffice 1.x/2.x/3.x/4.x/5.x
Plain Text
RTF (Rich Text Format)
XML (Generic)
XML with ready to use configuration files for:

DITA 1.0, 1.1 and 1.2
DocBook 3.x, 4.x and 5.x
SVG
Word 2003 ML
XHTML

JavaScript
Java Properties
PO (Portable Objects)
RC (Windows C/C++ Resources)
ResX (Windows .NET Resources)
TS (Qt Linguist translation source)
Stingray's filter for XML supports custom configuration. Users can define conversion rules for almost any XML vocabulary.
Flexible Licensing
Stingray licenses are affordable and portable. Licenses can be transferred from one computer to another in seconds. Buy one license and use it in the computer you have at hand. A Stingray license can be used in any operating system where Stingray runs.
Screenshots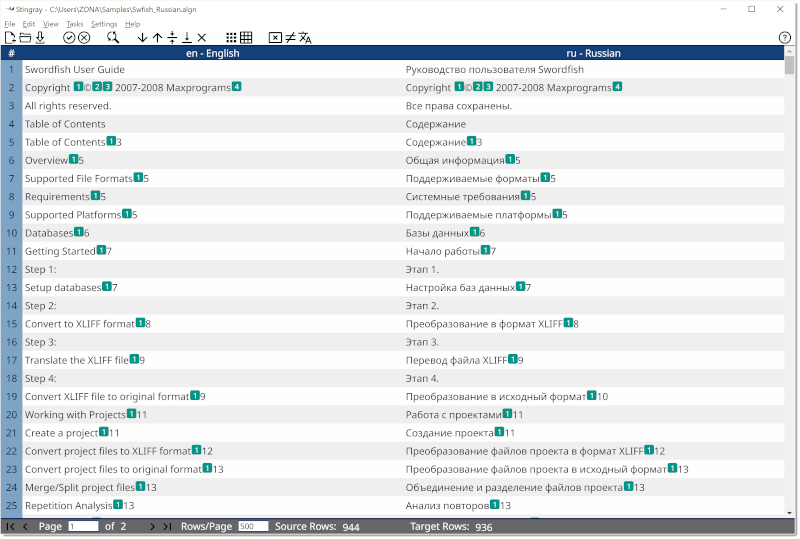 Click on picture for larger image.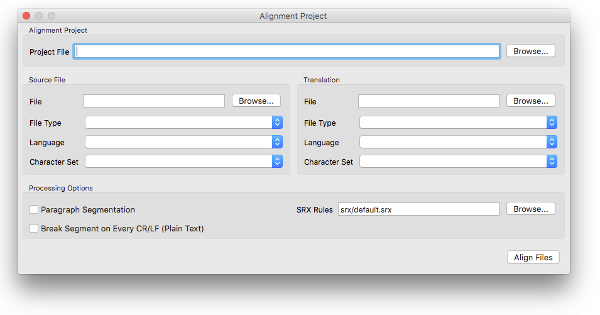 Click on picture for larger image.